A stunning interior is all about choosing the right design. Let's take a deep dive into 9 unique villa interior design ideas. These ideas will give a clear picture with relevant tips for a luxurious home design.  Make sure to address these points in your checklist.
You can use floor plants independent of the colour of the room. From decorating the corners of a table to complementing a furniture's beauty, floor plants come in different sizes. 
All you need is an empty space.
These plants require minimal attention. You don't have to fret about the plant drying up due to insufficient sunlight and water. Consequently, adding them to your interiors will enhance their beauty.
This also adds an aesthetic look to your walls. It can act as a mini garden to glance at while studying. You can add different plants and herbs as per your interests. And make the room visually appealing.
Apart from beauty and elegance, it's also important to pay heed to your health. Adding plants with different variations can not only uplift the calmness of your villa but will also benefit your health. 
Nobody likes to live in a jungle of skyscrapers, do they? A villa with a beautiful lawn filled with a variety of flowers and a few trees complements its beauty.
A villa has a lawn which can be customised as per your interests. You can add plants that fill vibrance and zeal in the atmosphere. You can use it as a venue for a weekend brunch with your family. Or read a book while relaxing on the hammock amidst the serene greenery. 
You can enjoy a Barbecue with your friends or simply hang out with your kids. Green space is all you need to filter the atmosphere with positivity and take you closer to nature. 
While talking about the lawn whose beauty can be cherished from the living room, don't forget the interiors. If you wish to enhance the beauty of your indoors, then, adding greenery to your interiors should be on your checklist. It will impart freshness to your villa while pumping up the overall vibe of your room. 
You can improve the interiors with plant interior ideas like
Always dreamt of accommodating into a Royal Haveli which you observe on television?
A villa can fulfil your dream and turn it into reality with the right designs and experienced designers. 
You can create a lavish royal interior without spending a lot of money. All you need is the right design plan that matches your budget. 
From choosing the right entrance design to creating false ceiling designs that emanate the royal look, the right designer can help you achieve it. 
Additionally, carpets can also help you achieve that royal look. 
This style of interior is contrary to minimalist designs. It emanates luxury with a variety of ornamental stuff.
Vintage furniture like sofas, chests of drawers with Sheesham or mango wood or vintage lamps build a luxurious villa. 
The intricate miniature designs as well as the mouldings on the walls increase the elegance of the walls along with adding texture to them.  
Floral, geometrical, and paisley are some of the aesthetic prints you can add to your cushions, sofa, and curtains. You can use colour schemes like purple, navy blue, rose gold, turquoise etc which bring a royal feel.
Pay heed to the bathroom.
A villa gives you ample space so try every possible design which couldn't be achieved in a small space. 
Create that modern villa design by adding a spacious bathtub to relax. Add a shower or a heated towel rack to increase the lavishness of the bathroom. Make it so spacious with numerous facilities that it feels like a Spa.  
Additionally, you can add a variety of accessories like plush towels, heated seats or mirrors with intricate designs and grandeur. 
You can add floral mosaic designs, designs with wood finishes, patterned flooring, or designs with smart space saving.
Don't ignore the Kitchen.
The kitchen is the heart of the home. Designing it with ugly interiors can deteriorate the mood while eating. Contrarily, a good design will improve the mood while dining with the family. All you need is a good interior design personalised as per your style.
A large dining room with comfortable chairs and stylised interiors can embellish your Kitchen's beauty. Moreover, you can add your favourite culinary accoutrements.
Creating a modern kitchen with an organised and spacious design improves the overall look and feel. 
You can use pendant lights to visually appease your guests. Modular kitchen designs are made with a variety of materials like plywood, particle boards, laminates, acrylic, etc. The designs completely depend upon the setting of your kitchen.
You can have a semi-open kitchen or a glass-door kitchen. 
Countertops with wooden laminates, classic marble or granite could trigger you to pour your heart out while cooking. 
Furthermore, you could also have 2 different kitchen zones in your villa which are dry and wet kitchens. 
You can get overwhelmed to include everything while planning the interior design for your villa. But remember, too much is also harmful.
Villa gives you ample space and not getting overwhelmed to fill every nook is quite rare. Minimalistic design can add a sophisticated touch to the designs. Yes, you heard it right. Use pastel or soothing colours for the accessories. Use small decor items. 
A variety of villa interior designers in Bangalore, including us, have created Minimalist interior designs for villas. You can use sleek furniture, or incorporate items with neutral shades. 
Minimalist designs demand empty space and decluttering of unnecessary elements. Moreover, if you use patterns, use them on a small scale. "Simplicity is supremacy" could be the tagline of minimalist designs. It uses simple objects and gives them a contrasting look against the background.
As said already, abundant space gives you abundant opportunity to fulfil designs that fascinated you the most. 
Headboards, pallet shelves, cabinets, picture frames, etc. there are a ton of ideas where you can use wood for visual joy. Wooden items can add more charm to your villa's interiors than other materials. 
Wine trestles or wall panels made of wood significantly improve the aesthetics. 
Moreover, coffee tables, beds, doors, and chairs are a beautiful way to express the intricacies of art. 
Finally, don't forget the wooden artefacts which add a vintage look to the interiors.
When it comes to minimalism, you cannot forget the power of Storage. 
Smart cabinets save up a lot of space. But well-designed cabinets will not save space but also impress those guests who watch them closely. 
Planning the locations for storage units is extremely important. A random arrangement of storage units can depreciate the look of your lavish villa. 
Storage units like wardrobes, crockery units, cabinets, and shelves should be in sync with the designs. 
In fact, wooden TV panels have cabinets and drawers to use the dead space. 
Furthermore, using natural stones to make shelves and open storage spaces is one of those evergreen ideas. It is profoundly found in villa kitchens. Stone shelves create attractive decor and impart modernness to your villa house design.
With huge space comes huge excitement to fill up every space. Although we discussed this earlier, we would like to add more light to it. 
Workstations like kitchens, lobbies and living rooms catch public attention. And it becomes essential to maintain the space in these places. If the space in these places isn't optimised your villa's interior design will lose its authenticity.
Installing furniture only to cover large spaces makes the interior look disorganised. 
Experienced interior designers have great skills to optimise the spaces in the right way. This can make your interiors look more pretty.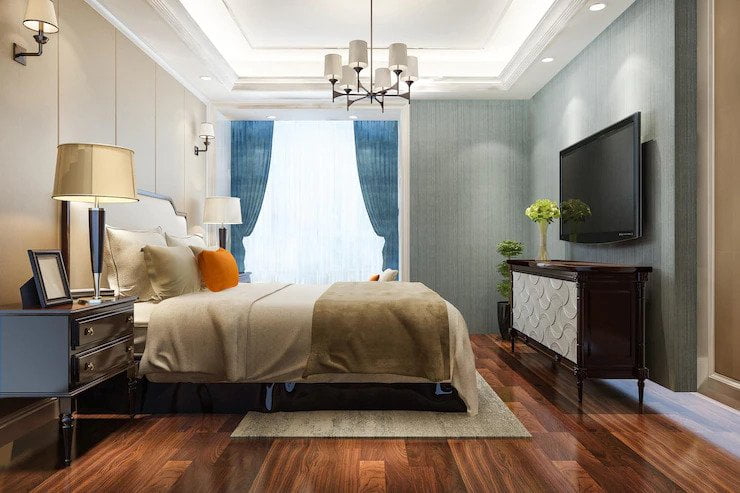 Install accessories on the wall behind your bed for a cool view. Moreover, you can install false ceiling designs to enhance the elegance of your bedroom.
Add a comfortable mattress with a bedsheet design matching your bedroom's aura. Add plush pillows, and a duvet to make it more luxurious. 
You can use the Window Bay seater for enjoying the outside view with a cup of coffee or tea. You can incorporate a study room. Additionally, you could choose to have a study desk pull-out if you are into minimalism.  
You can use textures on the walls and the accessories to create a bold stunning bedroom interior. Lastly, you can also add a massage table for unmatched luxury. 
These were the 9 pointers for interior design for villas. Make sure you don't ignore them for the next villa interior design. Contact us to get services from the best interior designers in Bangalore