Best and Affordable Wardrobe Design in
Bangalore
The significance of a well-designed wardrobe cannot be overstated when it comes to interior design. It goes beyond just a storage space; it is an extension of your individuality and personal style. Your wardrobe is a canvas that showcases your fashion sense, reflects your personality, and encourages you to create outfits that highlight your strengths. Designing a wardrobe tailored to your preferences is a creative and empowering process.
Several factors come into play when considering wardrobe design for your bedroom or even your living room in Bangalore. These include the size of the wardrobe, its location within the house, whether it should have a colorful or neutral palette, the available storage facilities, and the option to add additional storage units later if required.
For those seeking the best wardrobe design in Bangalore, look no further than Dezinepro. Our expert wardrobe interior designers in Bangalore specialize in creating custom wardrobes that seamlessly fit into any bedroom or living room, regardless of the available space. We understand the importance of designing a wardrobe that aligns with your taste and preferences without straining your budget.
Our approach to wardrobe design is as unique as you are. Your wardrobe should be functional and an expression of your style. Whether you envision a wardrobe design for the bedroom in Bangalore that exudes elegance or a versatile wardrobe for your living room, our team can bring your vision to life.
Dezinepro designers are skilled in wardrobe decorating and excel in personalized and unique wardrobe designing in Bangalore. We take pride in creating designs tailored to your needs, ensuring that your wardrobe complements your lifestyle and enhances the aesthetics of your space.
So, if you're searching for the best wardrobe design in Bangalore or need expert assistance from wardrobe interior designers in Bangalore, Dezinepro is your trusted partner. Contact us today, and let us transform your vision into a functional and stylish wardrobe that reflects your unique personality and fashion sensibilities. Don't hesitate to call us; we're here to make your wardrobe dreams a reality.
Regarding wardrobe design in Bangalore, Dezinepro stands out as a leading wardrobe interior designer in Bangalore. We understand that your wardrobe is not just a storage space but a reflection of your style and a functional part of your daily routine. Whether you're looking for the best wardrobe design in Bangalore or a specific type of wardrobe to suit your needs, our expertise covers a range of options.
No matter which type of wardrobe design you prefer, DezinePro is your go-to interior designer in Bangalore. We offer the best wardrobe design in Bangalore, and our team is dedicated to bringing your vision to life. Contact us today to explore your wardrobe design options and transform your living space with a functional and stylish wardrobe. With DezinePro, you can expect excellence in wardrobe design and execution.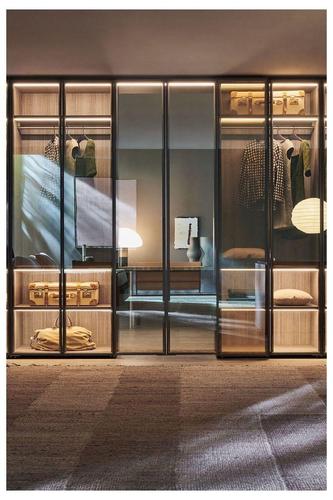 Walk-in wardrobes are a modern and stylish choice for those who value organization and accessibility. These wardrobes come in various styles, from spacious closets with rows of shelves to neat and straightforward clothes storage designs. At Dezinepro, we have years of experience designing and executing walk-in wardrobes. Our wardrobe interior designers in Bangalore can create a walk-in wardrobe that perfectly matches your preferences and lifestyle.
Sliding wardrobes offer a sleek and space-saving solution. With sliding panels that overlap, they maximize the functionality of your room without the need for additional furniture. Our expert team at Dezinepro specializes in designing sliding wardrobes that enhance your room's appearance and optimize its layout and design complexion. If you're looking for a wardrobe design for the bedroom in Bangalore that combines style and functionality, our sliding wardrobe solutions are the perfect choice.
Hinged wardrobes bring a touch of elegance and simplicity to your bedroom or living room. The unique design of hinged wardrobes can surprise your guests and add a sense of beauty to your space. Dezinepro designers are skilled in creating one-of-a-kind hinged wardrobes in Bangalore that fit seamlessly into any available space. We aim to provide you with wardrobe options that align with your taste and budget, ensuring you find the perfect solution for your needs.
Wardrobe Designed by Dezinepro in
Bangalore
Karthik Vishwanath
2023-08-13
I did a mistake of giving the order to this person, the quality delivered was very poor, Akilesh promised original Neem wood ply, within 6 months the plywood started lose it's shape and got bent. Got a plywood expert, he said this is a very low quality and duplicate neem wood ply. Called him, he said he will rectify, but never turned up. Thank god i did not give him my new building contract, I would have got cheated big time. Keep away and save your hard earned money.
Best place for all your modern home needs
Good
Very good
Sujay Kondanekar
2023-08-08
I recently hired Dezinepro interior designers for a home improvement project, and I couldn't be happier with the results! From the moment I contacted them, their professionalism and attention to detail stood out. I had two wardrobes with mirrors and LED lighting, a semi-modular kitchen made of marine ply, and wall-mounted cabinets installed in different rooms. The craftsmanship is truly top-notch, and the accurate measurements ensured a seamless fit for everything. The LED lighting beneath the cabinets adds a touch of elegance to the entire setup. What impressed me even more was their reasonable and negotiable pricing. It's clear that they value their customers and are committed to providing exceptional service without breaking the bank. I wholeheartedly recommend Dezinepro to anyone looking for interior design services. They not only transformed my living space but also made the entire process enjoyable and stress-free. Thank you, Dezinepro, for your outstanding work!
Shreya Vishwakarma
2023-05-14
Dezinepro did an excellent job with the interior designing and execution of my villa. Their attention to detail and personalized approach ensured that every aspect of the design was to my taste. Their commitment to sustainability was also impressive, using eco-friendly materials wherever possible. I highly recommend Dezinepro for anyone seeking interior design services in Bangalore.
I recently hired Dezinepro for a full home interior and I am beyond thrilled with the results. The team of designers was professional, creative, and really listened to my vision for each room. They provided expert advice and guidance throughout the process, and the end result was a beautiful and functional space that exceeded my expectations. The attention to detail and quality of work was impressive and I appreciated the seamless communication throughout the project. I would highly recommend dezinepro to anyone looking for top-notch interior design services.