Are you feeling the heat this summer?
That's to be expected when the temperatures start to climb.
But it's especially troubling when you feel like your home is just as hot, if not hotter than it is outside. It can almost feel hopeless when your electricity bills are going up and you're still not comfortable in your own home, but luckily there are ways to keep your home cool and comfortable without breaking the bank. That's why DezinePro Interiors is here to help!
We have some great strategies for beating the heat with our interior design solutions. We'll outline a few of them here so that you can make sure that the temperatures inside your home stay cool even as the mercury rises outside.
Tips for Cooling Off Your Home
When the temperature outside is unbearable, it's important to make sure your home is a haven of cool air. Thankfully, there are many interior design strategies you can take advantage of to beat the heat without breaking the bank.
One of the simplest ways to cool off your home is to

reflect sunlight. You can do this by adding drapes or curtains to your windows that have thermal backing. Not only will this help keep things cooler, but it will also reduce glare and add an extra layer of insulation against wintertime drafts.
If you're looking for decorative strategies that also help with cooling off, consider investing in light-coloured furniture and floors that won't absorb much heat from the sun and generate their own high temperatures. Additionally, ceiling fans are a great way to create a gentle breeze throughout your home and reduce overall temperature significantly.
Finally, think about adding some plants around your home! They help purify the air as well as actively cool it down by transpiring water vapour into the air in their surroundings.
With these tips from DezinePro Interiors in mind, you can say goodbye to scorching summer days and hello to cool old-fashioned comfort!
Why Proper Insulation Matters
Proper insulation is key when it comes to keeping your home cool in the summer. Insulation helps to keep the cool air from escaping your home and keeps the hot air from entering. Unfortunately, many homes aren't properly insulated, leaving you with an uncomfortable space and costly utility bills.
Luckily, with DezinePro Interiors, we can help you beat the heat effectively and save money in the long run! Our team is experienced in energy-efficient building practices that include professional insulation services. Not only will insulation help you maintain a comfortable temperature indoors all year round, but it'll also help to reduce your energy costs significantly—always a great investment!
Plus, we have the perfect materials to choose from that suit your needs and look great! So no matter what type of building you have or style you prefer, our team will work together with you to make sure that your home is not only cooled off but also looking its best.
Ways to Increase Ventilation
Increasing ventilation is key when it comes to cooling down your home.
Here are few ways in which you can increase ventilation:
1. Open Your Windows Wisely
Open your windows at night when the temperature outside is cooler, and close them during the day, when it's hot outside. This lets in the cool, fresh air and keeps heated air out during the day.
2. Install Fans Around Your Home
Ceiling fans can help circulate cool air throughout your house. Portable floor and window fans that exhaust stale air out of the house while bringing in cool outdoor air is also an option.
3. Install Vents on Roofs
With a roof vent, you can draw up warm air and expel it outside, drawing in cooler air. These vents come in both mechanical and non-mechanical varieties. In a mechanical vent, an electric fan draws the heat away from your house while in a non-mechanical version, natural wind passes through it to cool down your home.
These strategies will not only help you keep cool but they'll also help you save on energy costs – Who doesn't like that? Get ready to beat the summer heat with DezinePro Interiors!
The Importance of Window Coverings in Summer
When it comes to keeping your home cool, window coverings can play a major role. They act like an additional insulation barrier, to help keep the hot summer sunlight out and maintaining the temperature for a cooler indoor climate.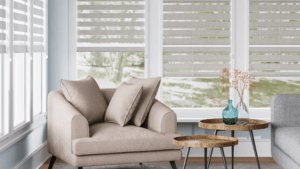 Window Coverings: Effectiveness & Esthetics
Window coverings can help you combine both effectiveness and esthetics. For example, with DezinePro, you can find a range of designer window options that let you choose from various fabrics, colors, textures and patterns. This helps you design your windows to add more depth and dimension to your room—not to mention it enhances the overall look of your home!
But more importantly, some fabrics such as cellular shades are made with special coatings that can block up to 99% of the sun's rays and its heat. Other materials such as faux wood blinds have slats which can be adjusted—allowing a controlled amount of sunlight into the room while providing shade at the same time.
And that's not all: With us, you don't have to worry about quality either—all our products use high-quality materials which are eco-friendly, durable and easy to clean. So you get superior cooling performance without compromising on quality or style!
Home Automation for Intelligent Cooling
Bringing home automation into the equation is one of the smartest things you can do if you want to beat the heat. You don't need to invest in a massive overhaul of your home with DezinePro in order to take advantage of this—all it takes is a few automation upgrades that let you control your home's climate and environment remotely.
With smart home automation, you can do things like:
Adjust your thermostat: Crank up the A/C before you get home and make sure it's comfortable when you set foot inside.
Automate fans: Set up ceiling fans, oscillating fans and other devices to turn on automatically during certain times of day or when sensed air temperature rises above a certain level.
Dim lights: Incandescent lighting puts out a lot of heat, as does halogen. Investing in LED bulbs not only uses much less energy but also puts out substantially less heat than traditional bulbs.
Install blackout curtains: Blackout curtains effectively act as insulators, reducing both heat gain and loss from outside sources.
No matter what your budget or lifestyle is, DezinePro can help find the best solution for automating your interior climate control to make sure your home stays comfortably cool no matter how hot it gets outside.
Maximizing Natural Light In Your Home
Natural light is a great way to keep your home cool during hot summer days. The implementation of natural light in your house can be done through the use of large windows and glass doors, strategically placed to capture the right amount and type of light, maximizing natural ventilation.
At DezinePro, we offer solutions designed to maximize natural light in homes – giving you the perfect balance between functionality, ventilation and cooling.
Placement
One great way to take advantage of natural sunlight is to place your windows near sensible spots. We advise keeping windows away from direct sun exposure and instead focus on places like south-facing sides of your house – this will result in warm sunlight during cold days, but still keep your home cool on hot summer days.
Consider Blinds
If you are aiming for a more formal look or don't want too much glare during peak sun hours, blinds are the way to go. Blinds come in a variety of styles and materials, so you can choose something that suits the esthetic of your home best while still letting enough sunlight filter through to keep your home from heating up too much.
Easy fixes to keep your home cool
If you want to beat the heat this summer, it's time to make some easy designer changes to keep your home cool. Here are a few cool tips from DezinePro that will save you from the heat and extra bills when temperatures soar:
Let the sun in during cooler parts of the day and keep it out during the hot hours. Many homes have east-facing windows, so if you open them in the morning, you can let fresh air in and give your home a natural cooling effect. Draw the blinds when temperatures outside increase.
Hang lightweight curtains or shades, to help keep rooms from getting too hot too fast. They come in a variety of fabrics that are designed to reflect sunlight and insulate against heat coming through the windows, which will help maintain comfortable temperatures inside your home throughout the day.
Upgrade your furniture with lightweight materials like metal or wood, which absorb less heat than heavy materials like leather or velvet, making it easier for air conditioning units to cool down hot spots in your home more quickly and efficiently than ever before. You can also place furniture away from radiators or other heating sources to avoid any additional heat being absorbed by large pieces of furniture.
With these simple interior design changes and tips from DezinePro, you'll be able to beat the heat and still enjoy a cozy atmosphere indoors all summer long!
Conclusion
Beat the heat with DezinePro! Our designs incorporate ventilation and window treatments, use color to cool down the wall surfaces and are optimized to ensure the maximum air circulation. Whether you're looking to install fans and air conditioners during the hotter months, or aiming for a better insulation in the colder months, we have you covered.
Say goodbye to sweat-soaked nights and air conditioner-bloated bills, and say hello to DezinePro. With just a few simple design changes, you can cool down your home and your wallet!