When it comes to designing a modern interior for your home in Bangalore, choosing the right furniture styles plays a crucial role in achieving a sleek and contemporary look. The furniture you select sets the tone for the entire space and adds character and functionality. In this blog, we will explore various furniture styles that perfectly complement modern interior design aesthetics in Bangalore.
1. Mid-Century Modern:
Mid-century modern furniture is a popular choice for modern interior design. Inspired by the design trends of the mid-20th century, this style features clean lines, organic shapes, and minimal ornamentation. Opt for iconic pieces such as-
 •  Eames Lounge Chair and Ottoman:
This iconic chair designed by Charles and Ray Eames features a sleek molded plywood shell and luxurious leather upholstery. It epitomizes the mid-century modern aesthetic with its clean lines, organic curves, and supreme comfort.
 •  Barcelona Chair:
Designed by Ludwig Mies van der Rohe, this chair is renowned for its elegance and simplicity. It features a stainless steel frame and leather upholstery, providing a perfect balance of style and comfort.
•  Tulip Dining Table and Chairs:
Designed by Eero Saarinen, this set showcases a single pedestal base and a round or oval tabletop. It's smooth lines and minimalist form make it a classic choice for modern dining spaces.
•  Noguchi Coffee Table:
Designed by Isamu Noguchi, this table combines a sculptural wooden base with a glass top. Its unique design blends art and functionality, adding a touch of artistic flair to a modern living room.
2. Scandinavian:
The Scandinavian furniture style emphasizes simplicity, functionality, and natural materials. This style often incorporates light-colored wood, such as beech or ash, with clean lines and minimalistic designs. Look for Scandinavian-inspired pieces like-
•  Modular Sofa with Light-Colored Upholstery:
Scandinavian design emphasizes comfort and functionality. A modular sofa with clean lines, plush cushions, and light-colored upholstery creates a cozy and inviting seating area while maintaining the minimalist aesthetic.
•  Slatted Wood Coffee Table:
A slatted wood coffee table adds warmth and texture to a Scandinavian-inspired living room. It's natural finish and clean design blend seamlessly with the overall light and airy ambiance.
•  Plywood Dining Chairs:
Plywood dining chairs with gentle curves and organic shapes are popular in Scandinavian design. They provide comfort and style, often showcasing the natural beauty of wood.
•  Storage Cabinets with Clean Lines:
Storage is essential in Scandinavian interiors. Look for storage cabinets with sleek lines, minimalistic handles, and light wood finishes. These functional pieces offer ample storage space while maintaining a clutter-free look.
3. Contemporary:
Contemporary furniture style is synonymous with modern design and reflects current trends and preferences. It features sleek lines, a mix of materials like glass, metal, and wood, and often includes bold, geometric shapes. Contemporary furniture focuses on comfort, functionality, and creating a visually striking focal point. Choose statement pieces like-
•  Abstract-Shaped Sectional Sofa:
Contemporary design embraces innovative and unconventional shapes. An abstract-shaped sectional sofa with unique angles and modular components becomes a focal point in a modern living room, expressing individuality and creativity.
•  Glass and Metal Coffee Table:
A coffee table with a glass top and metal frame adds a touch of modern elegance. The transparency of the glass creates a sense of openness, while the sleek metal frame complements contemporary design aesthetics.
•  Geometric Bookshelf:
A bookshelf with geometric patterns or asymmetric design elements adds visual interest to a contemporary space. It provides storage for books and decorative items while making a striking design statement.
•  Statement Lighting Fixtures:
Contemporary interiors often feature bold and artistic lighting fixtures. Pendant lights or chandeliers with abstract shapes, unconventional materials, or unique arrangements create a captivating visual impact and enhance the overall modern ambiance.
4. Minimalist:
The minimalist furniture style is all about simplicity and eliminating excess clutter. Clean lines, a limited color palette, and a functional design are the hallmarks of this style. Opt for furniture pieces that have a sleek and uncluttered appearance, such as-
•  Low-Profile Platform Bed:
A low-profile platform bed with a minimalist design and clean lines adds a sense of simplicity and tranquility to a minimalist bedroom. It eliminates the need for a bulky box spring and creates a streamlined look.
•  Modular Storage Units with Hidden Compartments:
In a minimalist interior, clutter is kept to a minimum. Modular storage units with concealed compartments provide hidden storage solutions, helping to maintain an uncluttered and organized space.
•  Sleek Dining Table and Chairs:
Choose a dining table and chairs with sleek profiles, minimal ornamentation, and a monochromatic color scheme. This combination embodies the essence of minimalist design and fosters a serene dining experience.
•  Minimalist Entertainment Console:
A minimalist entertainment console with clean lines and minimalistic hardware accommodates media equipment while maintaining a minimalist aesthetic. It focuses on functionality and essential storage, keeping the visual clutter at bay.
5. Industrial:
Industrial furniture style draws inspiration from factories and warehouses, showcasing raw materials and exposed elements. Metal, reclaimed wood, and distressed finishes are vital features of this style. Look for industrial-style furniture like-
•  Metal-Framed Bookshelf with Reclaimed Wood Shelves:
Industrial design celebrates the raw and unfinished look. A bookshelf with a sturdy metal frame and reclaimed wood shelves add an industrial touch, showcasing the charm of natural imperfections and repurposed materials.
•  Leather Sofa with Distressed Finish:
A leather sofa with a distressed finish exudes ruggedness and character, embodying the industrial aesthetic. It brings a sense of history and authenticity to the living room while providing comfort and durability.
•  Vintage Metal Dining Table:
A vintage metal dining table with a worn patina or aged appearance adds an industrial vibe to the dining area. Its robust construction and a weathered finish give a nod to the industrial heritage.
•  Industrial Pendant Lighting Fixtures:
Industrial-style pendant lighting fixtures with exposed bulbs, metal shades, and vintage-inspired designs illuminate the space with a nostalgic and industrial flair. They become eye-catching elements that contribute to the overall industrial aesthetic.
6. Contemporary Rustic:
A blend of contemporary and rustic styles can create a unique and inviting modern interior. Incorporate natural materials like wood, stone, and leather with clean lines and simple designs. Look for furniture pieces that have a modern twist on rustic aesthetics, such as-
•  Live-Edge Dining Table with Modern Base:
A live-edge dining table combines the raw beauty of natural wood with a contemporary base design. The juxtaposition of organic elements and clean lines creates a harmonious blend of rustic and modern aesthetics.
•  Leather Accent Chairs with Rustic Charm:
Leather accent chairs with distressed finishes and rich patinas bring rustic warmth to a contemporary interior. Their timeless appeal and rugged textures create a perfect balance between the two design styles.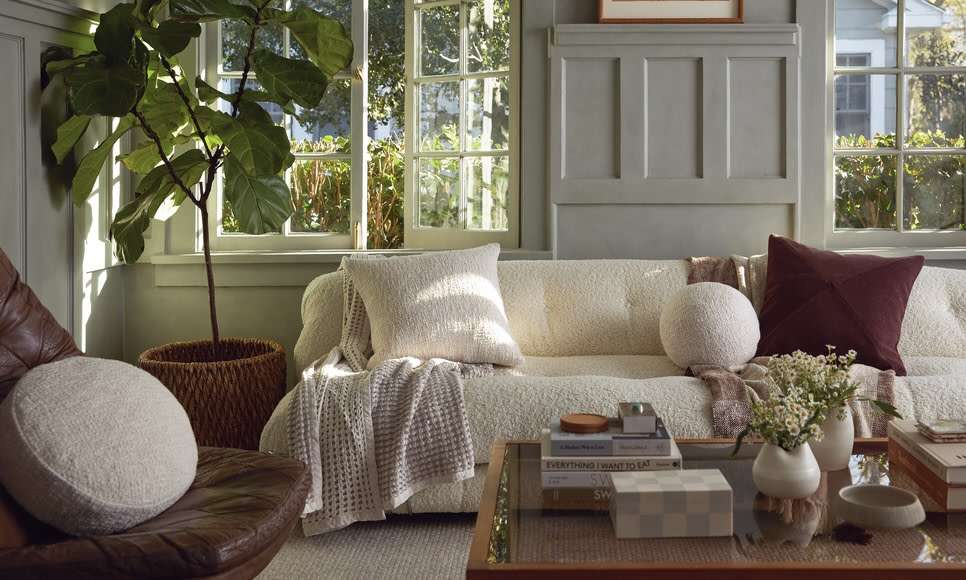 •  Reclaimed Wood Console Table:
A console table crafted from reclaimed wood showcases the beauty of weathered textures and natural imperfections. Its rustic charm blends seamlessly with contemporary design, adding character and functionality to an entryway or living room.
•  Stone Fireplace with Clean Lines:
A stone fireplace with clean lines and a minimalist design becomes a striking focal point in a contemporary rustic living room. The combination of natural stone and modern aesthetics adds a cozy and inviting atmosphere.
Conclusion
Selecting the right furniture styles is essential in achieving a modern interior design for your home in Bangalore. The key is to find a balance between aesthetics and functionality, keeping in mind the overall design theme. Whether you prefer the timeless elegance of mid-century modern or the simplicity of minimalism, furniture styles are available to suit your taste. Consider your lifestyle, available space, and personal preferences while making furniture choices. If you need expert guidance in creating a modern interior, consult with professional interior designers like Dezinepro Interiors – The best and most affordable interior designers in Bangalore, who can help you curate the perfect furniture selection to bring your vision to life.