In today's fast-paced world, many homeowners in Bangalore are embracing the charm and character of retro or vintage-inspired home interiors. The vintage revival trend offers a unique opportunity to blend the timeless appeal of the past with the modern comforts of the present. By incorporating retro elements into your home design, you can create a space that exudes nostalgia, personality, and a touch of whimsy. In this article, we will explore various ways to infuse retro style into modern home interiors, enabling you to achieve a perfect balance between old and new.
Start with Colors and Patterns:
Retro style is often characterized by bold and vibrant colors, such as mustard yellow, teal, orange, and avocado green. Incorporate these hues into your home by painting accent walls, choosing retro-inspired wallpapers, or adding colorful accessories. Opt for retro patterns like polka dots, paisley, or geometric prints for curtains, rugs, or throw pillows to create a visual impact.
Furniture with a Retro Twist:
Invest in vintage-inspired furniture pieces that capture the essence of the era you admire. Look for mid-century modern designs with sleek lines, organic shapes, and tapered legs. Incorporate statement furniture items like a retro-inspired sofa, a vintage-inspired dining table, or a retro-inspired armchair to anchor your space and add a nostalgic touch.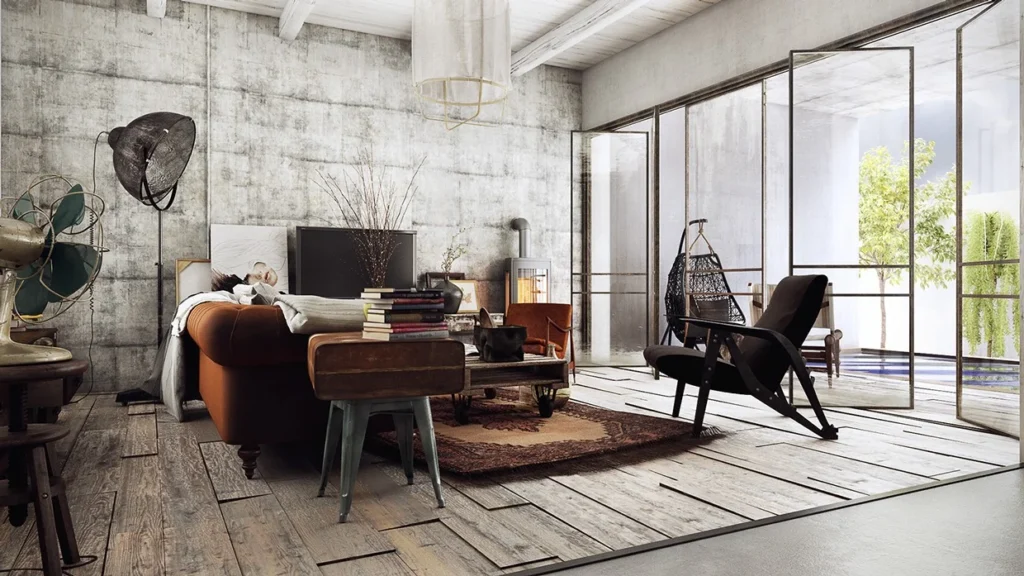 Retro Lighting Fixtures:
Lighting plays a vital role in setting the mood and ambiance of any space. Choose retro lighting fixtures, such as pendant lights with bold designs or sputnik chandeliers, to create a focal point in your rooms. Opt for warm-toned Edison bulbs or vintage-inspired filament bulbs to enhance the retro vibe and evoke a sense of nostalgia.
Vintage Accessories:
Small details can make a big difference when it comes to incorporating retro style. Display vintage accessories such as retro telephones, record players, vintage radios, or antique cameras on shelves or side tables to add a nostalgic touch. Incorporate vintage-inspired clocks, mirrors, or wall art to further enhance the retro theme. Thrift stores and vintage shops in Bangalore are great places to find unique pieces that add character to your space.
Retro Fabrics and Textiles:
Introduce retro fabrics and textiles to your home interiors through curtains, upholstery, or throw pillows. Look for bold and playful prints, like floral, paisley, or abstract designs, that were popular during the retro era. Consider incorporating fabrics with textures like velvet or shag rugs to create a cozy and inviting atmosphere.
Retro-Inspired Wall Décor:
Incorporate retro-inspired wall décor to elevate your interior design. Hang vintage-inspired artwork or posters that reflect the aesthetics of the era you admire. Create a gallery wall with framed vintage photographs, album covers, or movie posters. Don't shy away from using bold and colorful wallpaper to create an accent wall that makes a statement.
Retro Kitchen and Dining:
Infuse retro style into your kitchen and dining areas by opting for vintage-inspired appliances, such as colorful refrigerators or retro-style toasters. Display retro dinnerware, glassware, or vintage-inspired kitchen utensils to add a nostalgic touch to your dining experience. Consider installing retro-inspired backsplash tiles or using retro-patterned floor tiles to enhance the vintage vibe.
Retro-Inspired Bathrooms:
Transform your bathroom into a retro oasis by incorporating retro-inspired fixtures and accessories. Choose vintage-style clawfoot bathtubs, retro-inspired faucets, or colorful mosaic tiles to create a retro-chic bathing space. Hang vintage mirrors with ornate frames and add retro-inspired lighting fixtures to complete the look.
Balancing Retro with Modern:
While incorporating retro style, it's crucial to strike a balance between retro elements and modern aesthetics. Avoid overwhelming your space with too many retro pieces, as it can result in a dated look. Mix retro items with contemporary furniture and décor to create a harmonious and eclectic blend of styles.
Personalize Your Space:
Ultimately, the most important aspect of incorporating retro style into your modern home is to make it reflect your personal taste and preferences. Whether you embrace the bold and vibrant colors of the '60s or the sleek and minimalistic designs of the '50s, let your personality shine through and create a space that truly feels like home.
Conclusion
In conclusion, incorporating retro style into modern home interiors in Bangalore allows you to create a unique and captivating living space. By carefully selecting colors, patterns, furniture, lighting, accessories, and textiles, you can achieve a harmonious blend of retro and modern elements. Remember to strike a balance, personalize your space, and have fun experimenting with different retro-inspired design elements. Let the vintage revival bring a touch of nostalgia and timeless charm to your home in Bangalore. Your home will showcase the beauty of pattern blending under the professional direction of Dezinepro Interiors, one of the best and most reasonably priced interior designers in Bangalore. Let your creativity go wild and let your living spaces showcase your distinct sense of design and character.