Summer is the perfect time to give your home a fresh new look. But redecorating can quickly become expensive if you're not careful. Luckily, there are plenty of affordable home decor ideas that can help you spruce up your space without exceeding your budget. 
DezinePro brings to you a list of 10 fun and easy ideas to bring the richness of summer to your interior space:
Also read: Beat The Heat: How to Cool Off Your Home?
10 Interesting Ideas to Decorate Your Home This Summer:
1. Bright Cushion Covers
Get funky! Patterns are the new trend. Update your throw pillows with fun, colorful covers. Mix and match different patterns and textures to create a unique and playful look. Don't be afraid to experiment with bold colors and prints. You can also incorporate patterns into your curtains, rugs, and other decor items for a cohesive look.
2. Decorate your space with plants and flowers
This is one of the most effective & affordable home decor you can incorporate into your homes this summer. Add a few flowering plants to brighten up the space, add a pop of color, and bring fresh oxygen to your home.
Choose plants and flowers that match the decor of your space. For example, if you have a minimalist decor, you might opt for sleek and simple plants and flowers, which a more bohemian or rustic space might call for more ornate pots and colorful flowers.

Select plants and flowers that are easy to care for, as this will help ensure they thrive and continue to look good over time. Some good options for low-maintenance plants include succulents, snake plants, and spider plants.
3. Change your curtains
Swap out your curtains for something light and airy. Hang some sheer curtains to let in more natural light.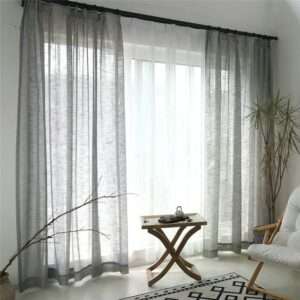 4. Add some wall décor
Create a gallery wall with your favorite photos and prints. DIY your own wall art with some paint and canvas. This home decor idea is extremely budget friendly & affordable, and gives a nice summer vibe to your home. Choose a color scheme or theme for your gallery wall. This can help create a cohesive look and make it easier to choose the right photos and prints to display. 
Consider using a few mirrors or other reflective surfaces to add dimension to your gallery wall. This can help create a more dynamic and interesting look. 
5. Set up a bookshelf
Display your favorite books on a stylish bookshelf. Add some visual interest to your bookshelf by incorporating other decorative elements, such as plants, candles, or vintage items. Organize your books by genre or category to make it easy to find what you're looking for. You can also consider arranging your books by color or texture to create a visually interesting display.
6. Update your lighting fixtures for a modern touch
Updated lighting can contribute to the vibes of the summer season.
Depending on what kind of lighting you choose, a bright, cheerful lighting can create a lively, energetic atmosphere, while softer, more muted lighting can create a relaxed, peaceful ambiance. You might consider incorporating warm, natural light or playful pops of color to give your space a summery feel.
Read Best Lighting Ideas For Your Living Room by DezinePro Interiors to get more ideas on the different kinds of lighting techniques that you might want to incorporate as home decor this summer.
7. Use a decorative bowl to hold your keys and other small items 
Look for a bowl that complements the overall aesthetic of your room and that you enjoy looking at. Add some visual interest to the bowl by incorporating other decorative items, such as flowers, shells, or other small objects.
8. Swap out your old hardware 
Change up your hardware for something more stylish. Look for hardware that fits with the style of your room, whether it's modern, rustic, or something in between.
9. Paint your wall
Add a pop of color with a bright accent wall. Consider the size of the room and the amount of natural light it receives when choosing a color.
Brighter colors may be more appropriate for larger rooms with plenty of natural light, while more muted colors may be more appropriate for smaller rooms or rooms with less natural light.
Consider adding some texture or pattern to your accent wall to create visual interest and balance out the bright color. Some options include wallpaper, a textured finish, or a patterned wallpaper.
10. Create a reading corner
For all those peaceful summer afternoons, create a cozy reading nook with a comfortable chair and some pillows. Add cushions to the chair to make it more comfortable. Choose pillows in a variety of sizes and shapes to create a cozy and inviting space. Some ideas include bolster pillows, throw pillows, and lumbar pillows.
Incorporate some soft lighting, such as a lamp or string lights, to create a warm and inviting atmosphere. This can help make the reading nook feel more cozy and relaxing.
Consider adding some plants or other natural elements to the reading nook to add some texture and life. This can help create a more relaxing and serene space.
And the list goes on!
These affordable home decor ideas are just the beginning of what you can do to refresh your home for the summer.
Stay tuned for more tips and tricks from DezinePro Interiors to come!
Conclusion
There are countless affordable home decor ideas that can help you refresh your space for the summer. By incorporating fun patterns, plants, and decorative items into your home, you can create a cozy and stylish atmosphere without overspending.
As interior designers, DezinePro Interiors are always here to help their clients implement these ideas and take their home decor to the next level. 
Don't let the cost of redecorating put a damper on your summer plans. Remember, revamping your home for the summer doesn't have to be stressful or expensive. With the right guidance and resources, you can make your home look and feel amazing all season long!